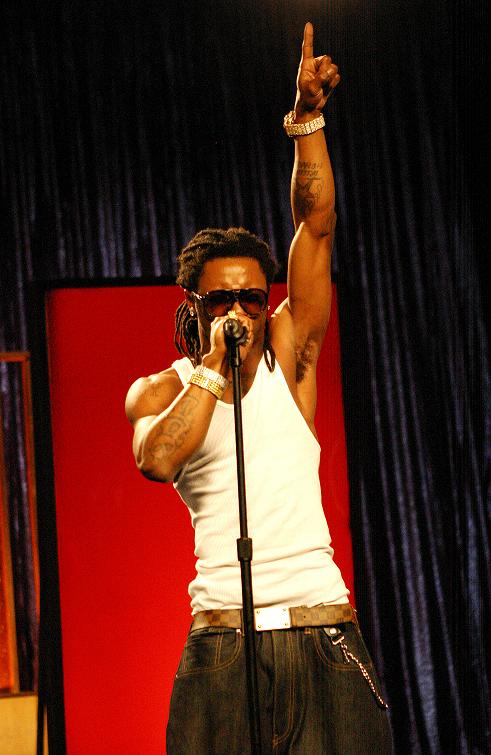 Hip hop can be like professional wrestling. Although there are no official hip hop champions, occasionally in hip hop there is a "franchise champion" a Hulk Hogan, a Rock, a Stone Cold Steve Austin to carry the brand, carry the label. In hip hop it has been arguably, Run DMC, Public Enemy, Hammer, NWA, Biggie, Tupac, Dre, Snoop, Jay Z, Eminem ,50 Cent, Kanye, and now Lil Wayne to carry the hip hop brand, and puts it on his back. Some of these artist have been transitional champions. ie.. a champion in between eras, for instance, Jay Z inherited what was left of the east coast /west coast bullshit and became a mogul. Which artist are or were transitional champions and which endure and "carry the brand" can usually be seen with hindsight. Whatever the case maybe Lil Wayne now sits on top of the hip hop game.
The hype leading up to Lil Wayne's most recent album "Tha Carter III" has not been seen in the music industry in some time. The New Orleans born rapper illustrates how the so-called dying music industry and hip hop along with it how to survive, make money, and thrive. The answer: make good music and it will sell. Tha Carter III, sold more records during the first week of release than any other artist this year with over 1 million copies during the first week. It is one of the highest selling albums this year.
The album features songs that you already know, meaning they have been on radio rotation for months. It is commercially friendly without trying to sound commercial. The albums arrangement is great it provides appetizers such as "3 Peat" and "A milli" which is also getting heavy radio rotation. "Dr. Carter" is clever and reminiscent of something Ice Cube would drop. The Babyface featured "Comfortable" and the guitar driven "Playing With Fire" work and provide great balance.
The best song to likely not get any radio play has to go to "DontGetit" where he raps then stops the song and drops his thoughts on crack cocaine sentences versus cocaine sentences and his take on Al Sharpton who he refers to as no MLK or Jesse Jackson but of a Don King, "you see you are no MLK, you are no Jesse Jackson/You a nobody, to me/you're just another Don King with a perm " When you are ready for something different here comes the radio friendly Mr. Carter featuring Jay-Z and the club banger Lollipop. It's a modern hip hop album certainly not for your Momz as some of the songs are misogynistic and overtly sex driven (see Mrs. Officer) but not more than anything else on the market. It boast (at least on the itunes version) 14 out of 18 pretty good songs and some already proven hits.
He takes chances with his lyrics, production, voice, and hooks, at times within the same song. The album provides a few club bangers but not annoyingly so. Its even and consistent. Critics of contemporary hip hop including this website decry ignorant lyrics, simplistic production and fm radio's reinforcement of the above. Although Lil Wayne at times gives radio what they want, he takes risks and is unpredictable. Therein providing hip hop artists and the music industry as a whole a formula for success. (Cite as BlackState.com July 2008)