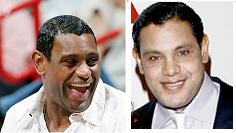 The web has been abuzz with before and after pictures of former baseball player Sammy Sosa. The former all star slugger skin appears to be much lighter than when he played. Is this much ado about nothing or does he want to be lighter in complexion?
In an interview with Univision Sosa stated that he was shocked at the attention he is receiving and denied having a skin condition similar to that of the late Michael Jackson. He stated that he uses a cream on his face because of damage to his skin due to the years of sun exposure in afternoon baseball games and that the flashes from the cameras made his skin look lighter. Sosa added, "I'm not a racist. I'm not like that. I'm just a happy person."
The skin controversy aside, due to the steroid allegations surrounding the star and the entire era of baseball in which he played, it is unclear whether or not the sixth all time home run hitter will make it into the hall of fame. In 1998 Sammy Sosa and Mark McGwire help bring national interest back to baseball during their chase for the single year home run record. McGwire would get the record hitting 70 home runs. A record later shattered by Barry Bonds who hit 73 home runs in 2001.