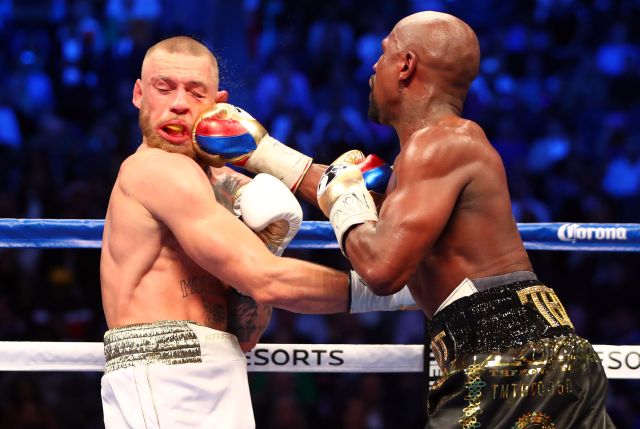 Sit Down, Be Humble – Thoughts On McGregor Mayweather
The trash talk leading up to this event was about the worse boxing has provided.The promotion tour complete with racial insults divulged into what can only be described as leaving a bad taste in everyone's mouth.
We ordered the fight at the last minute what the heck. The fight itself presented itself as the premier boxing exhibition of the last five years. Conor McGregor the UFC phenomenon had set to battle TBE, Floyd "Money" Mayweather. This battle took place in Las Vegas, Nevada at the T-Mobile arena in front of a close to sold out crowd. Like a big fight the big stars showed up. The likes of Lebron James, Maverick Carter, Alex Rodriguez, Jeff Gordon and some of the top "A-List" entertainers in the industry. Having watched the fight live and the replay on Showtime below is our summary.
In all honesty every bout including the undercards were worth the $99.00. This fight was like none we've seen before, the ring instructions were given directly to McGregor. The early rounds were a mix of Mayweather pursuing McGregor with jabs and quick punches to the body. McGregor held his own with consistent jabs and power punches. McGregor was surprising in the early rounds, in watching the replay we noticed some in ring nods the Mayweather.
The referee kept a strong hold on both contenders. It wasn't until the ninth round when we were truly able to see the work of 49-0. Mayweather landed lefts and rights to the head as well as the body of Conor McGregor. Conor McGregor up against the ropes once again, this time he couldn't recover. Conor McGregor has suffered another defeat, TKO. McGregor could barely stand as the referee waived the fight over.
Soon after the fight McGregor essentially stated that the fight should not have been stopped and that he was just winded, Floyd should've been made to put him down. Maybe Floyd should have put him on the mat maybe then McGregor would've been humbled but thats doubtful.